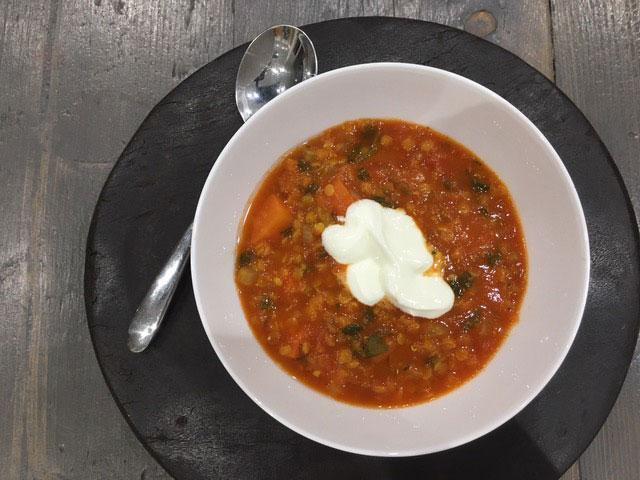 1. Place a large deep pan on a medium heat, along with a little oil.

2. Peel the onion and garlic, then roughly chop with the celery and add to the pan.

3. Finely chop the coriander stalks and chilli, grate the ginger and add to the pan, cook for 8-10 minutes, or until soft and golden, then add the spices and keep cooking for a further couple of minutes, stirring until combined.

4. Meanwhile, peel and roughly chop the carrots and tomatoes. Add both to the pan, along with the lentils and vegetable stock or water. Bring to the boil and then turn down to simmer for 25-30 mins, until the carrots are cooked, lentils are tender and the soup has thickened (add more water if needed).

5. Stir through the chopped coriander leaves and spinach, if using, then season with salt and pepper.

6. Now you can blitz up the soup, keep it chunky, or take out a few ladlefuls and blitz them, before adding them back to the chunky mix to create a mix of textures.

7. Serve up into bowls with a dollop of natural or Greek yoghurt, top with the picked coriander leaves and serve.